When choosing an engagement ring, keep in mind your significant other's style and preferences. Be sure to select a well-cut diamond, because Cut quality is the characteristic that most greatly impacts a diamond's beauty.
Each year, certain ring styles increase in popularity. And 2018 is no different. We're noticing strong trends for engagement rings in 2018, and we think you'll like what we're seeing.
Brushed yellow gold ring
The sun is coming to stay, and so is the warmth of yellow gold with a brushed finish. I sat in the office yesterday daydreaming about how I'd make every single yellow gold piece we ever create brushed yellow gold if I could. With the use of a brush, we can transform yellow gold from customary to Cleopatra-royalty status or into metal that looks like butter melting on your skin. There is an entire spectrum of brushed finishes! Adding a brushed finish to your traditional yellow gold jewelry is an easy way to give a nod to classic styles, but also a tip of the hat to your rebellious, one-of-a-kind side. A brushed finish can take a stand-out edgy piece, and soften it a bit with a non-shiny surface. Brushed yellow gold tends to look more artisanal than high polish…each brush stroke a symbol of careful work done by hand. That's what I see people wanting more of. Jewelry that looks like a human made it.
PAVÉ
While pavé settings have long been a favorite, we're still seeing an increase in their popularity. In addition to classic pavé settings, like this 1.46 Carat micropavé ring, we're noticing prevalence of more unique pavé settings. For example, engagement rings like this 1.53 Carat with the pavé metal twist, are topping the charts.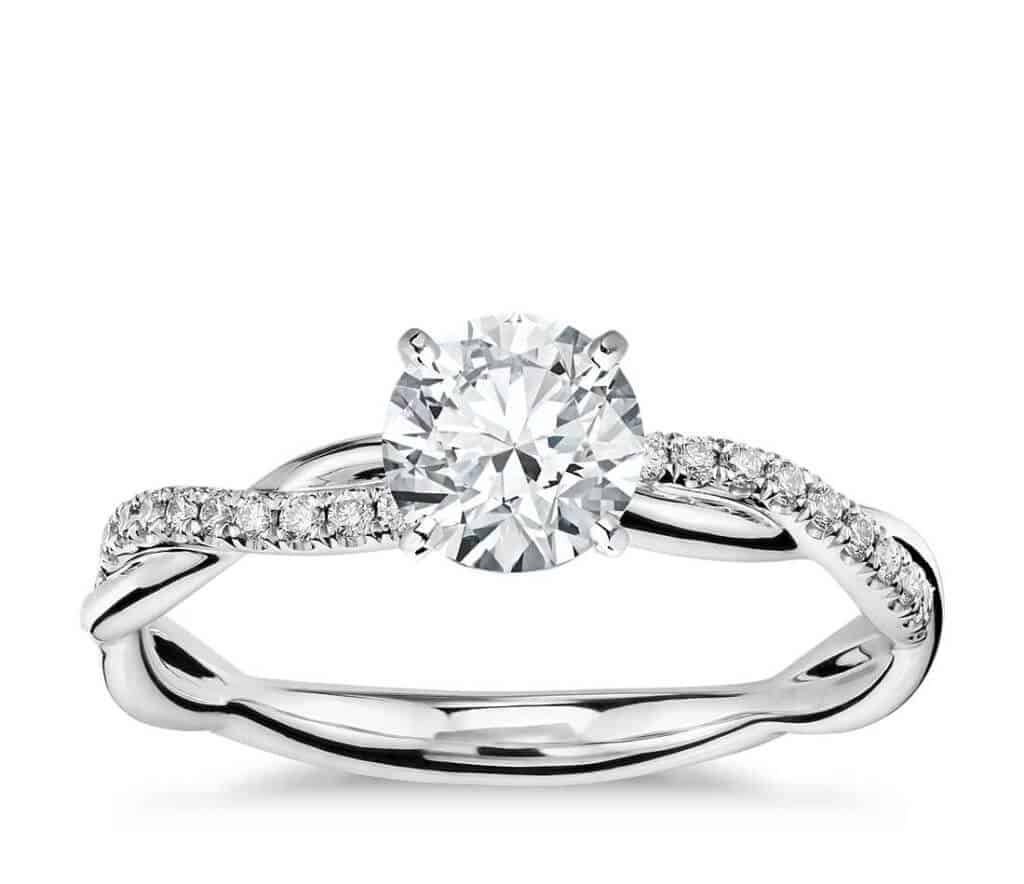 Natural, Rough Diamonds in Traditional Cuts
Rough diamonds are here to stay and continue to be a huge trend this year, but these raw stones will get a grown up upgrade in traditional cuts typically reserved for colorless diamonds. Up until this point, most rough diamond jewelry has embraced the organic feel in in rosecut styles. This season is seeing these rough diamonds cut traditionally in brilliant cut, radiant cut, and more. This gives this alternative choice the timeless element of a traditional diamond, but it's still super unconventional to see all of the galactic, unique inclusions; a hallmark of rough diamonds.
ROSE GOLD ENGAGEMENT RINGS
The best metal for an engagement ring depends on two things; your design parameters and your activity level. We recommend that those with active lifestyles consider more durable options like 14K white gold engagement rings or platinum engagement rings. However, no engagement ring metal is invincible. When it comes to all ring metals there are some activities that are simply not engagement ring friendly.
To decrease our environmental footprint, We use 100% recycled metals for all of our custom jewelry. If you are interested in repurposing old heirloom jewelry or redesigning your engagement ring, we will recycle the metal from your old jewelry and issue a metal credit towards your new custom piece. To ensure that our jewelry contains the highest quality alloys we use recycled metal for your engagement ring that has already been refined, keeping both our carbon footprint and your price down.
 If you need help picking a design we are always available! Email us at sk9669@hotmail.com for all requests and inquiries and we are happy to serve you the best.